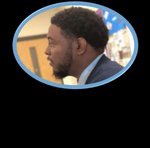 Any someone can enter a classroom, pick up a teacher's instruction manual, and impart the information to the students. However, this does not qualify someone as an outstanding educator. Mr. Dominique Moore is an outstanding educator. He has a passion for teaching, the ability to be accommodating, the gift of tolerance, and an aspiration to continue as a lifelong learner.
He believes one needs a passion for the profession. Mr. Moore loves what he is doing and freely accepts the rewarding feeling that comes with it. Mr. Moore has a passion for education will work the hardest and strive to see the students achieve, not because it shows he have done his job well, but to show that the students have gained new knowledge and will grow from it. This passion shows through when a student is struggling in a subject and Mr. Moore works one on one with them, as long as needed, until that student proves they have achieved. Mr. Moore let his passion be known, and let it shine through in each and every lesson he teaches.
Mr. Moore possesses a variety of wide-ranging skills in essential areas of education. He exhibit professionalism, flexibility, content mastery, availability, concern, and respect in order to ensure effectiveness in teaching. These attributes are essential to student achievement.
While professionalism hinges on consistency, punctuality, preparation, and cooperation. Mr. Moore is devoted to demonstrating professionalism in all his interactions. His students count on his behavior and his classroom management methods to be constant and reasonable. Mr. Moore's professional conduct provides a secure and dependable environment for students, which encourages positive relationships and learning.
Ultimately, students respond best to teachers who demonstrate a genuine concern for them, academically and personally. Students are willing to work harder when they believe what they do is important, not only to them, but to others. Mr. Moore's students are quick to point out that they know he cares about their achievement and will do what he can to help them succeed. Students who have evaluated his classes have said that he shows concern for them on an individual level.
On the other hand, one of most important trait a teacher demonstrates in the classroom is respect. By treating students fairly, listening to student input, and deliberately giving students responsibility for their own success, teachers show that they respect students as people with valid ideas, concerns and goals. Mr. Moore's treats each of his students with a great deal of respect, which sets a good example of how others should be treated. By treating his students with respect, they are far more likely to have confidence and purpose in their actions, and will work harder to succeed.
Mr. Moore has a calling on his life, and that calling is teaching . . . which he exquisitely balances with his most important roles as a son and brother. He teaches his students to strive for excellence, to love reading, to respect each other; and he teaches all of us (his peers) to give our best for our students, to wear a smile, to have faith, and to remember that the storms of life can often bring innovative growth.