Week 17: January 4-8, 2021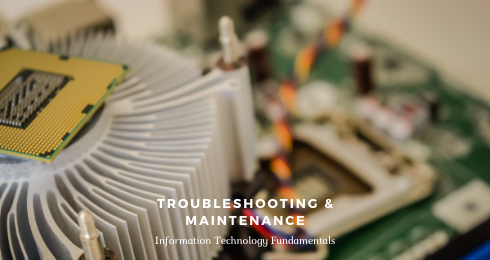 ---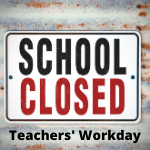 Lesson: 3.10 BIOS/UEFI
Lab: 3.10.7 Find BIOS/UEFI Settings
Lab: 3.10.8 Clear CMOS Settings
Assessment: 3.10.9 Practice Questions
Lesson: 3.10 BIOS/UEFI
Lab: 3.10.7 Find BIOS/UEFI Settings
Lab: 3.10.8 Clear CMOS Settings
Assessment: 3.10.9 Practice Questions
Lesson: 3.11 Expansion Cards
Lab: 3.11.4 Install Expansion Cards

Assessment: 3.11.5 Practice Questions



Login to Schoology and navigate to the current week's folder then to the assigned lesson folder. All labs and practice questions are due on or before Sunday at 11:59 pm each week.
Lesson Overview
This lesson is designed to prepare students for entering an Information Technology career by providing them with information regarding PC maintenance and the Troubleshooting Process Model, a standardized approach to troubleshooting personal computers (PCs). Students will learn the steps to take to effectively and efficiently troubleshoot personal computers by following the seven stages of the model (GIC DIED): G - Gather information, I - Identify changes, C- Create a hypothesis, D – Determine the fix, I – Implement the fix, E – Ensure user satisfaction, D – Document the solution. Students demonstrate a PC's construction and gain full knowledge of each of the components, including how to troubleshoot, maintain, and secure them. Students will learn how to select, install, and troubleshoot issues with the power supply, motherboard, processor, memory, BIOS, expansion cards, video, audio, and cooling system.
State Standards:
ITF-7: Utilize troubleshooting techniques for personal computer components and portable devices.
ITF-8: Perform preventive maintenance on personal computer components and portable devices, operating systems, and computer security systems.
ITF-9: Identify tools, diagnostic procedures, and troubleshooting techniques for operating systems, printers and scanners, and security.
ITF-10: Demonstrate the construction of a computer system, including the installation of hardware and software.
ITF-11: Demonstrate configuring, upgrading, and optimizing security.
Learning Target(s):
I CAN:
Build/disassemble a computer
Install hardware
Install Operating System
Install other software
Use the troubleshooting process for personal computers
Essential Question:
How does preventative maintenance reduce the frequency of computer problems?
Why is updated security software essential?
How important is your skill level in troubleshooting computers?
What are the functions of the BIOS?
What advantage does a PCIe have over a PCI bus?
How does adequate cooling improve performance and extend the life of components?
TestOut Sections to be covered:
TestOut 3.10-3.14
Announcements
From January 5-20, 2021 all students and teachers will be on remote instruction. We are scheduled to return to face-to-face instruction (for those who chose to be on traditional learning) on January 21, 2020. If you have chosen to be on remote learning you will continue to be remote.
If there are any changes we will let you know.