Learn more about Report Card Scores for Bessemer City Schools.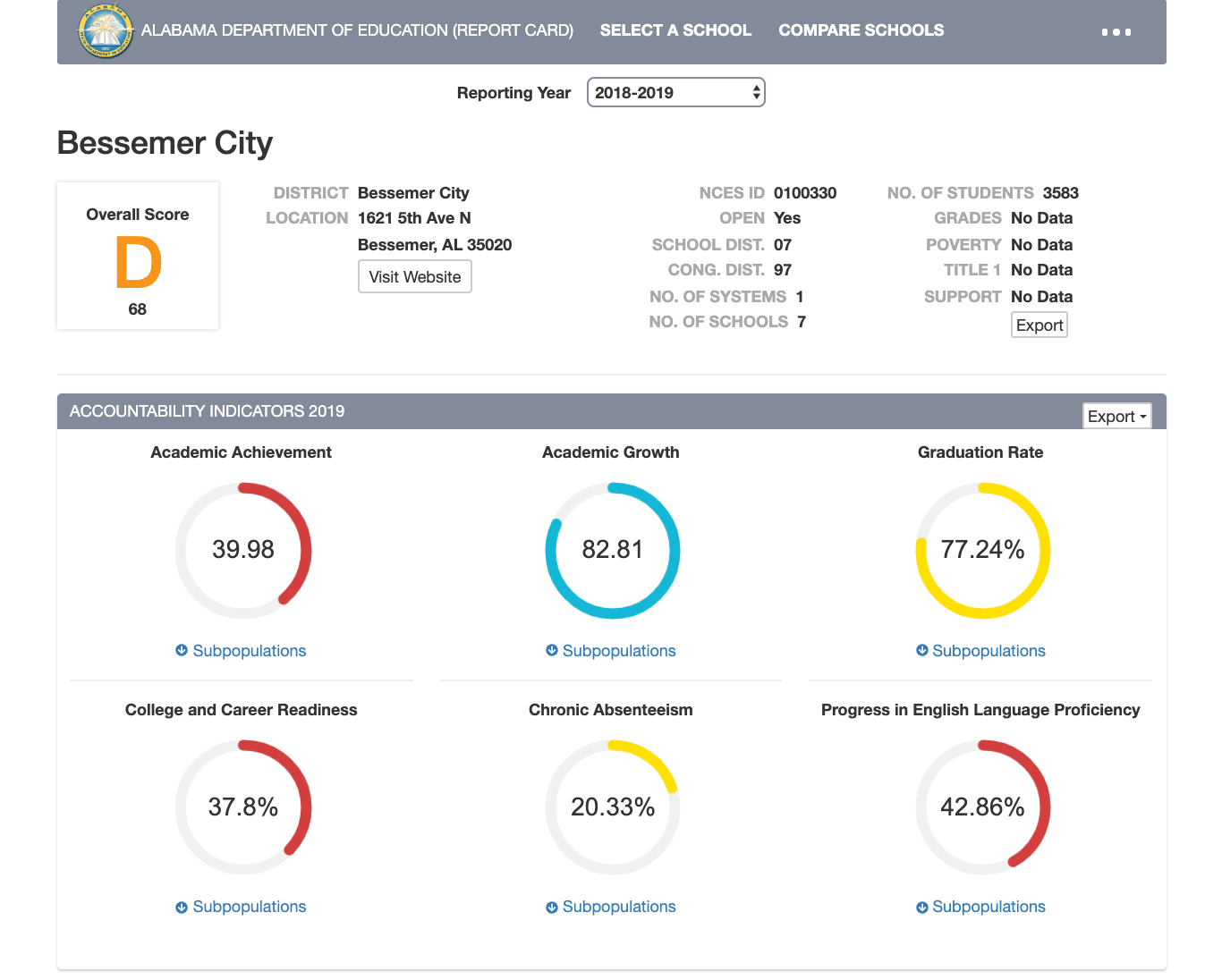 The Alabama State Department of Education released the Alabama Education Report Card on Friday, as well as Report Cards for each school system and individual schools across the state. Using data from the 2018-2019 school year, the Report Card uses six Accountability Indicators to calculate a letter grade for the state, each school system and each school. The Bessemer City School System received an overall grade of D, with a total of 68 points. Compared to the 2017-2018 Report Card, BCSS showed an overall gain of one point.
Within the six Accountability Indicators, BCSS either showed gains or decreases with the previous year's scores. One indicator where BCSS showed gains was the Graduation Rate indicator, with an increase of 4.24 percentage points.
Each of BCSS's 7 schools also received a letter grade, based on the same indicators as the system score. All schools showed progress in at least one area. No matter what score an individual school received, school and system-level administrators are developing strategies to address specific needs and continue growth at each school.
The system and several other schools had an overall decrease in the number of students who are Chronically Absent, one individual school showed an increase in Chronic Absenteeism. Chronic Absenteeism is defined as missing 18 or more days in a school year, for any reason, excused or unexcused. Not only does Chronic Absenteeism negatively impact the Report Card score, but the greater concern is the negative impact on student learning.
Aside from specific strategies to address individual school needs and goals, BCSS continues to implement system-wide strategies, to continue the progress the system has shown in Accountability Indicators. These strategies include:
Collecting data throughout the school year, so instructional changes are made as needed. This includes intervention for struggling students and enrichment for high-achieving students.

Working to make sure teachers clearly understand content standards.

Counseling and tracking student progress toward graduation, as well as college and career planning.

Strengthening efforts with parents to ensure students are never unnecessarily absent.

Providing high-quality professional development for teachers.

Implementing new initiatives to aid progress for our growing English Language Learner population.

Focusing on literacy and writing skills across all grades.
In addition to the Overall Score and Accountability Indicators, the System Report Card also includes student and system demographic information, percentages of proficiency by subject, and educator profile information. For instance, educator profile information for BCSS shows almost half of the system's educators have earned a master's degree or higher.
Families can find more information about their school's individual Report Card score through the school's web site or office. The Alabama State Department of Education developed the Report Card to comply with state and federal law. In 2012, the Alabama Legislature created the Legislative School Performance Recognition Program Act, which requires a letter grade to be assigned to most Alabama public schools. The Report Card is also in accordance with the federal Every Student Succeeds Act. Find more information about the Report Card at the Alabama State Department of Education web site.